It sucks It's tough to always be devoting your tech skills to the advancement of other people's, often avaricious, interests. I spend most of my days at this keyboard building websites and applications that pave the path from customer's wallets to my clients' profit sheets. Decisions are always reduced to this: "does it save us money, is it going to make us money, or will it cost us money." Money, money, money. The customers' needs rarely receive the best attention; instead, the customer's needs are sacrificed as much as they can be without losing the customer.
This materialistic drive has disillusioned me. After advising many friends about the importance of fulfillment—including vocational fulfillment—and after many late-night "committee" meetings with myself about my own personal satisfaction, I have decided to go back to school and pursue a master's of English with an emphasis in gender studies.
Because this decision came about shortly after all of the application deadlines at the University of Utah, I have to take classes as a non-matriculated student for a couple of semesters. Unfortunately, one of the classes I wanted to get into, ENGL 5940 – Theories of Gender and Sexuality, was full. After spending a day constantly trying to remember to check if a seat had opened up, I realized I could use some of my tech skills to do this for me. So, I spent Sunday morning writing a little script that checks the web page showing the number of seats available. If there is a seat available, it emails me and text messages me. I then set it to run every 5 minutes, sat back and picked up my Foucault, knowing that if a seat opened up, I'd get it.
And today I'm happy to report I got a text message announcing "Seats Available". I hopped onto the school's registration system and scooped that spot up. Oh yeah! I haven't spent such a valuable block of time inside a text editor as I did when I wrote that script. Hopefully, it will lead to not only a master's degree, but a complete toppling of the systemic, patriarchal oppression that continues to surround us all. Hmm, I wonder what the script for that looks like. It might be the one I already wrote. Let's hope.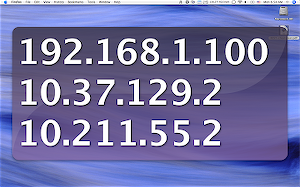 I just came across nifty feature in Quicksilver. For those of you not familiar with Quicksilver, it's a little tool for Mac OSX that does everything from launches applications to scales images with a few, quick keystrokes—and, as I just figured out, reveals your ip. I normally get this by doing an ifconfig in a terminal, or pulling up System Preferences. No longer. Now, when I need to see my IP, when browsing my mac from my Parallels installation, I summon Quicksilver with ⌃ Space, type 'IP', and hit 'Enter'. Bam, all of the ip addresses of my various network interfaces are shown. Yet another nifty timesaver from Quicksilver.
If you haven't tried Quicksilver, save yourself some life and download it now. I'm sure it does something you'll find invaluable.
Update: Tieg mentioned that he was having trouble with this tip. It turns out that you have to have the "extra scripts" plugin enabled. If you still don't see it, you might have to scroll through the various actions that come up for 'IP'. I hope that helps.